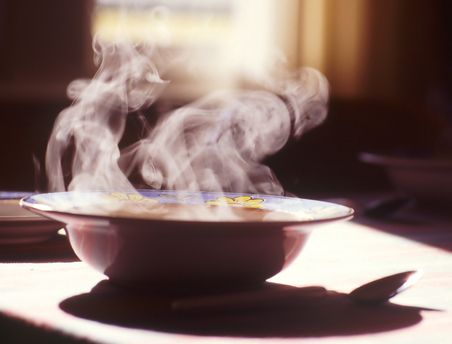 I used to run many years ago but my lower back told me to stop.
I loved eating food that was good for me as long as I could make it myself.
This is my own version of a 'runner's soup'.
It's high in every single thing that's good for you.
The best part?
It tastes good.
Serve with a nice slice or two of multi-grain bread and you are golden.
Dad's Purifying Soup
You will need:
2/3 cup of lentils
1 cup Kashi (7 grain)
3 cloves garlic, minced
1 medium sweet onion, diced
3-4 cups chicken stock
1 tsp Paprika
1 tsp celery salt
1 tsp fresh ground black pepper
pinch of thyme
1 tsp fennel seed
1/2 tsp ground cloves
1/4 cup EVOO
Wash lentils and Kashi under cold running water for 3-4 minutes and drain.
Heat soup pot and saute garlic and onions in EVOO until golden.
Add remaining ingredients, bring to a boil and then simmer on low for 1.5 hours.
This soup is not only for runners.
It's a healthy meal for anyone that needs something nutritional and easy to make.
Enjoy.
~Dad

2 Responses to "Purify Yourself"